General Settings
These settings are setup automatically when Woosage is installed. The main setting is the Startup type, which is set to Automatic so that Woosage will automatically restart when the computer is restarted.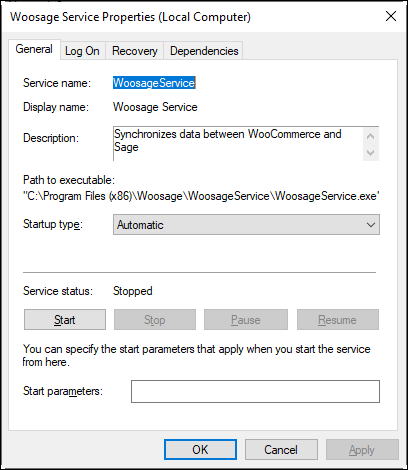 Log On Settings
By default the Woosage Service is installed and set to Log On using the Local System account, so that will run unattended, even if the PC is not logged on.

However, if your network/server security polices lock out the Sage folder to all except authorised users you may have to provide valid user credentials for a user with permission to read and write to the Sage Data Path folder on the server. This can be the credentials of any Windows user with the relevant permission but, depending on local policy, may have to be setup by your IT department as an account specifically for the Woosage service. For further information regarding related security policies see this
Microsoft Article

The account setup for the Woosage Service must satisfy the following conditions:

It must have Administrator rights on the local machine (where Woosage is installed).

It must have read/write access to the files and sub-folders in the Sage Data Path (the path will end ...\ACCDATA)

It must be in the Active Directory Domain Admin group (this may depend on how the IT policies are setup)
Once the user credentials have been supplied, open the Services application from the Windows search bar. Alternatively, press CTRL-ALT-DEL, select Task Manager then Services tab, find the WoosageService, right-click and select Open Services.
Locate the WoosageService and double-click, then select the Log On tab. Select This account and enter the logon credentials of an authorised user, ensuring to enter the full name, including the network/domain name or and username, as shown below.
Then click OK and Restart the service.

Recovery Settings

When Woosage is installed the Recovery Settings are set to ensure that it automatically restarts in the event of a service failure. Service failures occurs due to uncaught errors or external events, which may be outside the control of Woosage. The automatic recovers settings are shown below.